Ocean Power Technologies (OPT) has announced the launch of an initiative to improve the efficiency of its PowerBuoy wave energy systems. OPT, along with a consortium of European companies and institutions, is developing a new wave prediction model, which will assess the characteristics of incoming waves.
According to OPT, this technology would allow the PowerBuoy to fine-tune its electronic capabilities to better "prepare" for the shape and size of waves as they approach, significantly boosting the power output of the PowerBuoy, and reducing the cost of the energy it produces.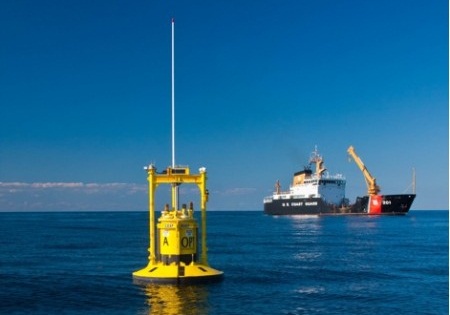 Development and deployment of the new technology is being funded by the WavePort project, an initiative of the European Union's Seventh Framework Programme for research and innovation. WavePort awarded OPT €2.2 million ($3.0 million) to support the design and deployment of the next-generation PB40 PowerBuoy and its related systems. Other members of the consortium, including Portugal's Wave Energy Centre, Norweigan offshore technology company Fugro Oceanor, Spanish fabricator DeGima, the University of Exeter and the UK's Intelligent Systems Research Institute (ISRI), will be responsible for the steel fabrication, wave-monitoring equipment, wave resource prediction research, system monitoring and project management.
The new PowerBuoy will be deployed at an existing mooring site in Santoña, Spain.  The project is expected to receive approval from the Spanish government later this year.
Angus Norman, chief executive of Ocean Power Technologies Ltd., said in a statement: "The development of wave power as a viable source of clean energy is gaining momentum. We have already demonstrated the excellent efficiency and survivability of our PowerBuoy systems with our recent deployments in Scotland and the U.S. We are now raising the bar…. Our expectation is that more energy will be delivered per ton of steel used for fabrication than many competing renewable energy systems."
Become a Green Earthling Deal email subscriber by Friday, Nov. 4, and you could win a $100 Amazon gift card courtesy of EarthTechling!