Remember that new device for using kinetic energy from moving vehicles to produce electricity? The manufacturer says a big demonstration of the system went well.
Based on the more than 580 vehicles that rolled over the MotionPower-Express at the Roanoke (Va.) Civic Center one busy day in late October, New Energy Technologies said an optimized and installed MotionPower system "experiencing a traffic pattern similar to the six-hour event could produce enough sustainable electricity to power lights for the average American home for an entire day." Put another way, the company said, the same electricity could power a 150-square-foot electronic billboard or marquee for an entire day – perfect for the kind of venues the device is targeted for.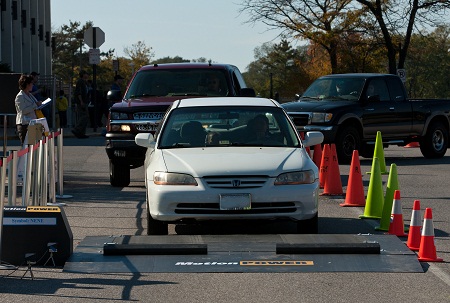 Earlier, New Energy Technologies had conducted smaller field tests at Burger King, Four Seasons Hotel and Holiday Inn Express.
"The MotionPower-Express was safely demonstrated to over 580 vehicles attending events on Saturday," Robyn Schon, general manager of the Roanoke Civic Center, said in an emailed statement from New Energy Technologies. "Visitors were excited to learn more about the technology and to help the City of Roanoke in its mission to implement green energy initiatives."
The MotionPower Express works by creating a section of roadway – it looks like a speed bump – where vehicles are required to decelerate or stop. Using a unique patent-pending "mechanical and fluid-driven technology," the system "assists" vehicles in slowing down, and simultaneously captures the slowing vehicle's kinetic energy before it is lost as heat and friction.
According to New Energy Technologies, MotionPower-Express is suitable for use in any situation where vehicles are traveling faster than 15 mph and are slowing down to stop, including: entertainment, amusement and sports complexes; parking lots; border crossings; exit ramps; neighborhoods with traffic calming zones; rest areas; toll booths; and travel plazas.