Pike Research recently noted that concentrating solar projects (CSP) "totaling 6.9 gigawatts (GW) in capacity had been awarded, but just 1.5 GW were under construction." The cleantech analysts said that, under pressure from cheaper photovoltaics, the only CSP plants getting over the hump were those backed by federal loan guarantees – like the Mojave Solar Project, where "construction is now ramping up," according to developer Abengoa.
The parabolic trough power plant, backed by a $1.2 billion loan guarantee through the U.S. Department of Energy's Section 1705 program, is two months into what Abengoa said will be a two-plus year construction project. "After just a short time in construction, 81 workers are already on-site," the company said. "In addition, it is expected that over a thousand direct and indirect jobs will be created and/or preserved across America through the many service and manufacturing industries necessary to construct the Mojave Solar Project."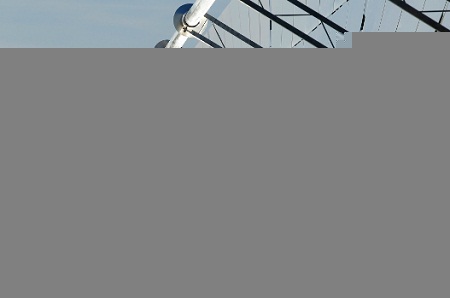 Abengoa added that more than 80 percent of the equipment, supplies and services being used to build the plant will be of U.S. origin.
Earlier reports put the plant's size at 250 megawatts (MW), but in its construction update Abengoa said Mojave would have a generating capacity of 280 MW. And it argued the benefits of utility-scale solar thermal technologies over PV. "CSP is a mature technology and the thermal inertia inherent in the Abengoa design will allow the plant to produce electricity reliably and predictably over the course of the day," the company said. "This is a valuable attribute that will complement intermittent renewable energy technologies such as PV and wind."