Applications are now being accepted for the 2012 Clean Energy Challenge Midwest Business Competition. The challenge is being put on by the Clean Energy Trust (CET) in conjunction with the  U.S. Department of Energy Office of Energy Efficiency and Renewable Energy.
Midwest businesses will have the chance to compete for cash prizes of $250,000 that will go to the best early-stage clean energy technology concept. This year, a Student Challenge category has been added for student-led businesses. The student winner will receive a $100,000 grand prize and go on to compete at the Department of Energy national student competition in Washington, D.C. Winners also have ample support in bringing their new clean energy technology to the marketplace.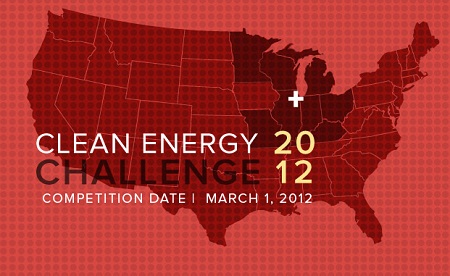 The first Midwest Business Challenge, held earlier this year, brought in more than 70 applications from Illinois companies.  The 2012 competition has been expanded to include businesses from Illinois, Indiana, Kentucky, Michigan, Minnesota, Missouri, Ohio and Wisconsin. The added Student Challenge has been advertised at universities throughout the region.
Companies who make it to the final stage of the competition will present business plans to a panel of judges that include venture capitalists and business leaders on March 1 in Chicago. Those companies who make it to the semi-finals, both student-led and companies, will be matched with experts to help guide prep them for the March event.  The application portal closes December 5, 2011. For more information on application procedures and eligibility go to the Clean Energy Trust website.
Become a Green Earthling Deal email subscriber by Friday, Nov. 4, and you could win a $100 Amazon gift card courtesy of EarthTechling!