Holiday lights have come a long way since those clunky, colored incandescents of yore. Now, Elemental LED is taking the ubiquitous string of LED Christmas lights even further into the future with tinier bulbs mounted on a flexible wire string, allowing lights to blend even more inconspicuously into holiday displays.
This energy efficient lighting option consists of ultra-compact LED bulbs on an ultra-thin, silver or copper-colored wire string. The wire string can be bent in any direction, increasing creative options, and also reflects the light generated by the bulbs for a unique, festive look. Each Celebright kit includes 20 feet of Celebright LED Holiday Lights, a 12 volt adapter and a DC plug, which connects the lights to the adapter. Using 12 volts ensures that these lights remain cool to the touch, making them safe for all indoor applications. Each 20-foot section consumes a miserly 3.6 watts of power.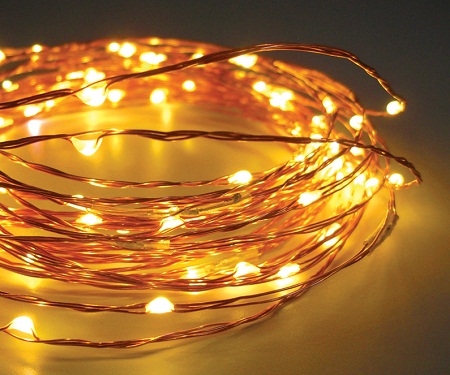 These LED holiday lights come in multi-color, warm white or blue; Elemental LED suggests blending into indoor trees, wreaths, mantles, centerpieces, displays and other holiday decorations.
Celebright is the first LED product from Elemental LED that is exclusively for holiday lighting, though the company would like you to know that its other products, such as its LED strip lights in red, green, blue, white and color-changing are also popular options for the holidays.
Become a Green Earthling Deal email subscriber by Friday, Nov. 4, and you could win a $100 Amazon gift card courtesy of EarthTechling!