Honda has begun testing their electric vehicles (EVs) in the city of Guangzhou, China, a move that underscores the Chinese commitment to EVs and the installation of EV infrastructure – and also foreshadows Guangqi Honda Automobile Company's commitment to begin building EVs in China before the end of 2012.
Honda will be using the Fit EV equipped with the coaxial motors the company is currently using in the FCX Clarity model. The Fit EV uses lithium-ion batteries to provide enough power to give the car a range of around 90 miles. On average, a full charge takes up to six hours using a 220-volt supply.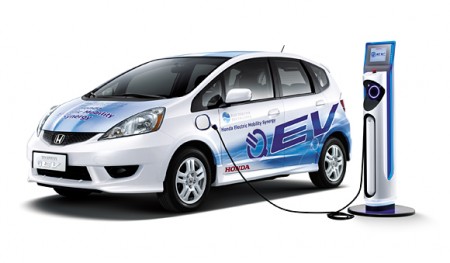 The Honda EVs will be driven on local streets to reproduce a real-world usage environment which Honda engineers will use to identify the vehicle's potential technological issues, the company said. The results will be input to the development of the most appropriate EVs for China.
The tests will monitor daily driving by general users, range per charge and charging patterns. The results will be used in proposals toward establishment of the most appropriate recharging infrastructures in China.
Help Carbonfund toward their goal of planting 1,000,000 trees. Subscribe to Green Earthling Deals by Friday, Nov. 25, 2011, and EarthTechling will donate $1 for every new subscriber. See contest rules for details. Sign up in the upper right-hand corner at EarthTechling.com or right here.