Grid-connected photovoltaic installations were a big bright spots in the recently released Annual Updates & Trends Report [PDF] from the Interstate Renewable Energy Council (IREC). The report looked at the latest goings on in the renewable energy and energy efficiency industries, analyzing policies, installation and market data and clean energy workforce development.
The report found that solar markets are continuing to grow in the United States, with PV installations doubling in number in 2010 compared to 2009. This news is in line with other data we've seen, and is a trend that has continued into 2011: In the latest quarterly report from the Solar Energy Industries Association, installations were up 69 percent over the same quarter last year. The IREC said federal and state support for solar would continue to drive additional growth in the sector.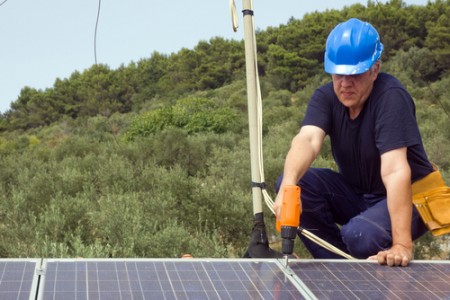 The way states dealt with solar tax incentives was mixed, according to the report. Out of the 50 U.S. states and the District of Columbia and Puerto Rico, 45 modified their solar policies and programs in 2010 in some way. Some states extended or expanded tax credits (or did both) to support solar. Other states reduced tax credits for solar or eliminated them altogether.
The report also highlighted a growing need for clean energy workers. Both the American National Standards Institute and IREC have announced plans to pursue an independent, joint accreditation program for energy efficiency and renewable energy-related certificate programs. The existence of such training program is expected to help lower costs of green technologies and encourage consumer adoption.
Become a Green Earthling Deal email subscriber by Friday, Nov. 4, and you could win a $100 Amazon gift card courtesy of EarthTechling!