The improper disposal of e-waste -cell phones, computers and other electronics – from North America and Europe, can result in life-threatening pollutants for Africans. Recent tests of an e-waste site in near Ghana's capital, Accra found 50 times higher toxic levels of  lead, cadmium and other pollutants.
The tests were undertaken by Ghana researcher Atiemo Sampson as part of the Solving the E-waste Problem (StEP-Initiative) Summer School. The program was hosted in Europe by Philips and Umicore for 20 international graduate researchers.  The tests show a produce market, a church headquarters and a soccer field near the Accra e-scrap yard were all polluted by varying amounts.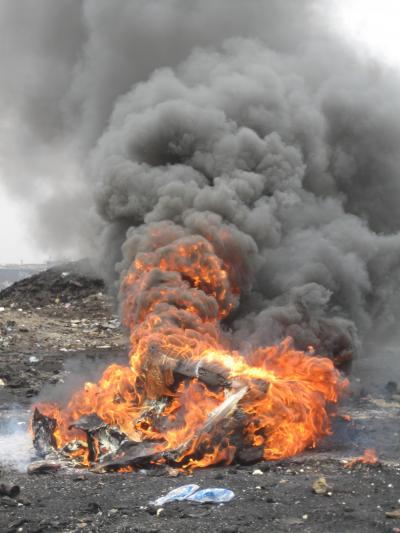 International shipments of electronic trash are outlawed by international agreement, but European and North American e-waste still makes its way to Africa and Asia through unscrupulous cargo handlers.  A Ghanaian government study from 2009 said of the 215,000 tons of electronics imported into the country, 70 percent were used and 15 percent was trash. Many Africans earn profits from scraps collected from the e-waste, but they can jeopardize their health by doing so.
The report from the initiative  found that informal recycling does a disproportionate amount of harm to the environmental and human health of Ghanians. It recommended developing a legal framework for electronics importation and responsible processing.
As a result, Philips said it is now applying "life cycle thinking" as it re-engineers and designs some of its products with insights from recyclers to facilitate metal recovery. Umicore is pioneering a complex process that involves extracting various metals from e-waste, including many scarce and valuable metals.