A recently commissioned 53-kilowatt concentrating photovoltaic (CPV) installation in El Paso is serving, in part, as a pilot project to evaluate CPV's potential in the region. The project, at El Paso Electric's substation, was engineered and installed by El Paso-based Solar Smart Living, using six SolFocus SF-1100S tracking CPV systems. The installation is the first of its kind for the electric company.
The CPV technology from SolFocus uses a patented system of mirrors (or, "reflective optics") to concentrate sunlight 650 times onto small, highly efficient solar cells. According to the company, this technology provides high energy yield, while using just 1/1000th the amount of solar cell material used in traditional photovoltaic (PV) systems. The El Paso project also utilizes dual-axis trackers to maximize production by tracking the sun over the course of the day. Other benefits of the technology include the fact that it uses no water, and has a small footprint, to minimize shadowing and wildlife corridor disruption.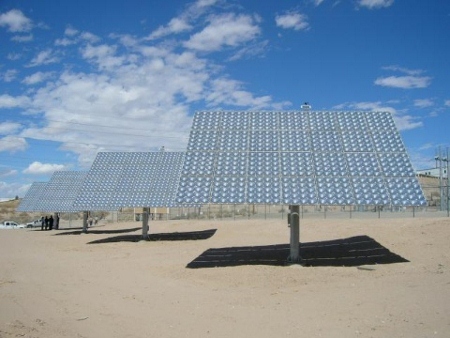 According to SolFocus, CPV is ideal for sun-drenched areas like El Paso, and provides the shortest energy payback and lowest greenhouse gas (GHG) intensity of any solar technology. Other systems using SolFocus technology are operating in Arizona, Colorado, California, Hawaii, Italy, Portugal, Greece, Spain, Australia, Saudi Arabia, South Africa and Malaysia. .
"SolFocus systems are ideal for deployment in the very sunny locations that El Paso Electric serves," said Mark Crowley, CEO of SolFocus. "SolFocus is eager to work with its partners Solar Smart Living and El Paso Electric to show how CPV can deliver the strongest solar energy harvest available for the region. We are finding that municipalities throughout the sunny Southwest U.S. are seeing the benefit of high efficiency technology in providing them low cost solar energy."