Sure they're methane producers of the highest order, but at least some of what comes out of cows is being put to good use. Take the Greenhill Dairyfarm Biogas Plant in the United Kingdom. The combined heat and power company Alfagy says a project it worked on there is using the waste from 600 cows, along with other organic matter, to fuel a 430-kilowatt power plant.
Alfagy says this anaerobic digestion plant, outside the tiny village of Ardstraw, Northern Ireland, is unusually efficient: "Normally, central power plants pump more than 50 percent of the energy into the air while turbines waste 75 percent of the wind's energy. Run on muck, the cow power plant has an energy efficiency of 86 percent, wasting only 14 percent, which a huge step toward a sustainable Northern Ireland."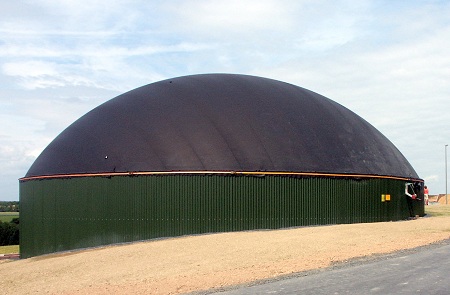 Alfagy said Greenhill is the 52nd biogas power plant in the U.K. but only the second in Northern Ireland, which the company blames on a lack of backing from the government. "It is astonishing that more financial support isn't directed at biogas power plants as they create eight times more value than other renewable technologies such as wind turbines," Peter Kindt, the Alfagy chairman, said in a statement.
The power plant works by digesting animal waste at 40 degrees Celsius (104 F) to produce methane gas, the company explained. "The gas is then piped into two engines that drive generators while hot water is also produced for drying plant waste, called 'digestate,' and to pasteurize milk," the company said.
It's not entirely clear how much energy is produced at the plant, or what happens to it, but the headline on Alfagy's press release was, "Cow Poo Powers Village," and given that Adrstraw's population is 222, according to the last census, that might actually be the case.