Los Angeles-based Coda Automotive recently production of their new, flagship all-electric sedan at the Los Angeles Auto Show. The Coda won't wow you with its futuristic styling, nor will it blow you away with it's 0 to 60 time. By most estimations, the Coda is not sexy, unless you consider hardcore practicality a turn on. If that's the case, you are in for a treat.
The Coda is packed with functional, common-sense, real world features, and breaks down as an all-electric, five-passenger, mid-size sedan with full rear seating and plenty of trunk space. It features anti-lock brakes, a six-airbag system (two advanced front, two seat-mounted side, two side curtain) and two rear outboard latch positions for kid's car seats. Air conditioning comes standard and along with 17-inch aluminum wheels and Bluetooth connectivity. The interior fabric is even made entirely of recycled materials.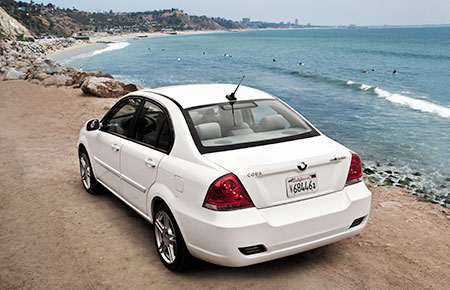 On the road, the cars's proprietary lithium-iron phosphate battery generates 36 kW. That's enough to coax 134 horsepower from the car's motor and to allow the car to reach an electronically limited 85 MPH. The sedan, which employs regenerative braking technology, has a range of up to 150 miles and will take a full charge in about six hours.
But here's where the Coda sedan starts to really look good: the price. The car begins at $39,900 and that's before federal and state rebates are factored in. It gets better. It  also features a ten-year, 100,000 mile warranty on the battery system, and the company guarantees the car's powertrain for five years and 60,000 miles and the new car warranty goes for three years and 36,000 miles.
The kick off in production for the Coda comes after a lengthy road traveled by this fledgling electric car company. We've watched the company make some interesting pricing choices, get picked up by Hertz at select rental locations, land its share of funding and, more recently, open its first store in an upscale shopping mall, of all places.
Help Carbonfund towards their goal of planting 1,000,000 trees.  Subscribe to Green Earthling Deals by Friday, November 25, 2011 and EarthTechling will donate $1 for every new subscriber. See contest rules for details.  Sign up in the upper right hand corner at EarthTechling.com or right here.