Two Pacific Northwest members of Congress – a Democrat and a Republican – have introduced legislation to extend the production tax credit for renewable energy through 2016. The credit is considered a vital incentive for the wind power industry, which says it has spurred job-creating clean-energy development. As the law now stands, wind power would lose the credit at the end of 2012.
Rep. Dave Reichert (R-Wash.) said the credit, if extended, "will leverage private investment to bring proven energy projects online, bolster domestic manufacturing, and reduce electricity costs for businesses and families." Reichert's cosponsor, Rep. Earl Blumenauer (D-Ore.), added that the "credits for renewable energy development are an essential part of powering America's clean energy future."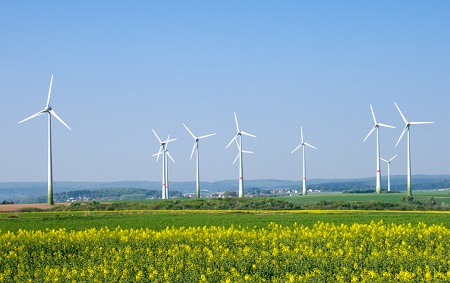 Under the current law, companies that generate wind, geothermal, marine and certain types of biomass power are eligible for a tax credit worth 2.2-cents per kilowatt-hour for the first 10 years a plant's operation. Smaller credits are also available for upgrades and additions to hydroelectric power plants and small irrigation systems, and for landfill gas and waste energy. The provision covering wind is due to expire at the end of 2012, and runs for an additional year for the other forms of renewable energy.
The credit has been particularly important for wind power producers. When the American Wind Energy Association (AWEA) released its most recent quarterly report on the U.S. industry, it made a point of advocating for an extension of the tax credit. "Policy uncertainty has many leading wind developers saying they have no projects scheduled for 2013, which is starting to threaten both development companies and the U.S. wind energy supply chain," the AWEA said.
Denise Bode, the organization's CEO, said she would bring a host of questions to lawmakers when she travels to Capitol Hill to advocate for an extension: "Do you want to raise rates on consumers in a bad economy by raising taxes on wind? Do you want to be the one to say that we just shut down a new manufacturing sector, and an industry that could support 500,000 jobs in less than 20 years, just as it was getting a foothold in the U.S. market?"