By Simon Lomax, energyNow!
Energy Secretary Steven Chu defended his department's $535 million loan guarantee to Solyndra, a now-bankrupt California solar-panel manufacturer, saying the U.S. can't afford to "wave the white flag" in the global clean-energy race.
"One has to take risks to promote innovative manufacturing," Chu said at Washington Post Live's Smart Energy conference, which is sponsored by energyNOW!  Chu said about 50 other nations, including China, have similar financing programs and the U.S. will lose more jobs to those countries if clean-energy subsidies like the loan guarantee program are abolished.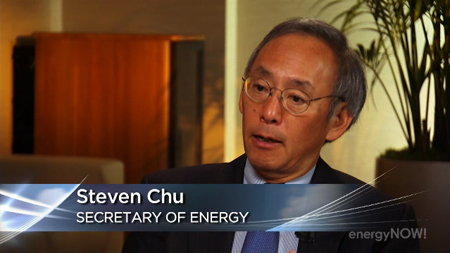 Chu also refused to say whether the Keystone XL pipeline, which would carry oil-sands crude from Canada to refineries in Texas, should be built. "I'm not going to commit one way or another," said Chu, one of several cabinet members advising the White House and State Department on whether to approve the pipeline. In an interview with energyNOW! that aired in September, Chu indicated the Obama administration was leaning towards approving the pipeline.
Chu is scheduled to testify before the U.S. House Energy and Commerce Committee Nov. 17 on the loan guarantee awarded to Solyndra in 2009. Republicans have accused Chu's department and the White House of ignoring warning signs that the company was destined to fail.
Chu said today that Solyndra failed because of a "totally unexpected" fall in the cost of competing solar technologies. The energy secretary said government aid for clean-energy companies must continue for the same reason the Bush and Obama administrations rescued U.S. auto makers GM and Chrysler.
"We should continue to guide, with a deft hand, private sector investments," Chu said.

Editor's Note: This news story comes to us as a cross post courtesy of energyNow! Author credit for the post goes to Simon Lomax.