By Taylor Hatmaker, Tecca
If you're worried that the zombie apocalypse is nigh, never fear! On Kickstarter, a site well known for getting wild ideas off the ground with crowdsourced funding, you can actually invest in your end of the world plan now — before things go south. A collective called Open Source Ecology is drumming up funds on the site for what they call Global Village Construction Sets, and while they might not be zombie-proof per se, they do aim to provide the tools you'd need to start a modern civilization from scratch.
So what comes in the kit? You'll get all the info you'll need to build a number of handy tools through what the organization calls "microscale fabrication." That includes blueprints for making a tractor, a brick press, a pulverizer, a power unit and more — and the instructions for operating the 50 some odd industrial machines you'll make.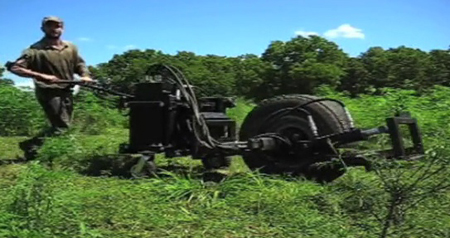 The project's somewhat radical goal is to provide "access to powerful tools that anyone can use to transform their built environment." The idea is that with all of the documentation in the included "resource library", you could theoretically get your own society off the ground. That is if the Kickstarter campaign reaches its $40,000 goal by November 19 — and you know, assuming the human race hangs on for long enough. The more you pledge, the more advance training you'll get, so keep that in mind if you're opening your wallet.
Of course, you could just use the kits to make your own sustainable non-post-apocalyptic miniature DIY community, if you don't feel like waiting for the world to end.

Editor's Note: This news story comes to us as a cross post courtesy of Tecca. Author credit for the story goes to Taylor Hatmaker.