Have you ever gotten your utility bill in the mail and wished there was some way you could slash the amount owed? Of course, we all do. But saving money on your monthly energy bills often seems harder than just turning off more lights. Now, learning how to lower your home energy costs might be something you can do the next time you visit the electronic store.
Best Buy has announced the launch of its Home Energy Management retail concept. In three Best Buy stores in Chicago, Houston, and San Carlos, Calif., staff will provide help and information related to energy self-assessment tools, home energy audits and product installation. And, if you don't happen to live in one of those three areas, Best Buy is also offering a an Online Learning Center on BestBuy.com.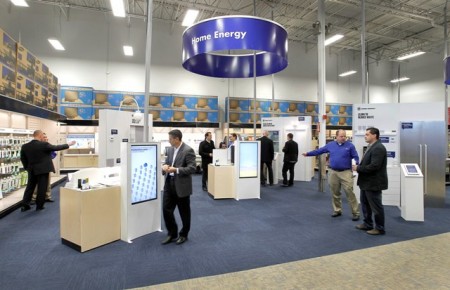 "Our role is to help consumers make the most of the technology in their lives, and the Home Energy concept is our latest experiment that will demonstrate the knowledge and expertise of our employees, and how our brands and our channels can help consumers understand how to own, use, and maintain energy efficient technologies," Neil McPhail, senior vice president of new business customer solutions group with Best Buy said in a statement.
In the three retail stores, those ubiquitous Blue Shirts will be on hand to guide customers through questions about products, solutions and featured services. Everything from energy assessments, to product installation, to rebates and energy incentives will be discussed. The stores will also feature products from three energy partners – Constellation Energy in Chicago, Reliant in Houston and Pacific Gas and Energy Company in San Carlos, Calif – as well as working with ThinkEco, which will be showcasing its Modlet energy savings device, and Energy Results, which is making its online home energy self-assessment tools available to use.
Initial media coverage tells us some interesting things about the Best Buy move. Gigaom's Katie Fehrenbacher took a swing through one of the new Best Buy Home Energy concept locations in California, noting that "the reality is that home energy gear can be, well, kind of boring" and that "the section's layout did, however, seem to spark interest from shoppers with its interactive layout." Smart Planet, meanwhile, reports that an interview with Best Buy's CEO came away with the focus that the retail giant sees sustainability as "serious business."
The challenge Best Buy will face in the home energy management space is how to get consumers interested in this type of technology. They'll certainly have an uphill climb on their hands – the likes of which have already forced giants such as Google and Microsoft from the space.
Additional reporting by Nino Marchetti