The group known as Citizens for Pennsylvania's Future wants to empower the future of renewable energy in Pennsylvania, and toward that end, recently awarded Bayer MaterialScience's EcoCommercial Building (ECB) Conference Center with a "Green Power: Turn It On" award.
This solar-powered, zero-emissions building was originally constructed by a student-led team from Penn State for the 2009 Solar Decathlon; it was recently dedicated and commissioned by Bayer MaterialScience as its new ECB Conference Center at Bayer's North American headquarters in suburban Pittsburgh. Ongoing research centered on the facility is aimed at achieving net-zero energy and net-zero emissions solutions on a commercial scale. In the meantime, the building serves as a showcase and education center for sustainable building systems, as well as a working center for evaluating R&D materials and technologies.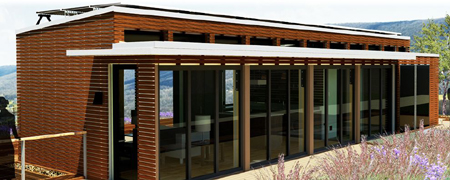 All of which is part of Bayer MaterialScience's larger ECB initiative, which includes a network of industry experts that provide products and services aimed at improving the energy efficiency, environmental friendliness and cost-effectiveness of new and renovated commercial buildings. Towards that end, the company has also begun work on a $17 million renovation of its headquarters.
The mission of PennFuture as a statewide public interest membership organization is "to create a just future where nature, communities and the economy thrive." The group presented the Green Power award to Bayer during a ceremony held October 27 at the Fairmont Hotel in Pittsburgh.