Giant aluminum producer Alcoa recently announced it has developed a new all-aluminum space frame and bus design for China-based electric vehicle manufacturer BYD. The first two BYD Electric Bus prototypes using the new Alcoa design were recently launched in Changsha City, Hunan Province, China
Alcoa says that by using the aluminum frame the weight of the new BYD Electric Bus body has been reduced by 40 percent, or nearly one ton, versus steel options. Alcoa also designed new forged wheels and fasteners for the bus that reduced the overall bus weight by 1.2 tons in total. The combined weight savings are expected to help improve the overall range of the electric bus by at least 10 percent. The new bus has a range of approximately 300 kilometers (186 miles) on a full charge.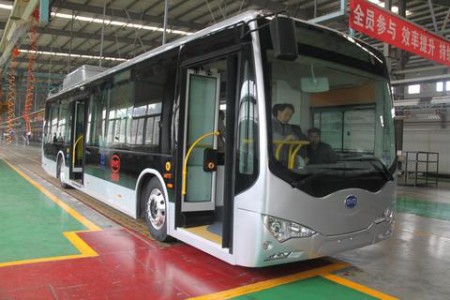 BYD plans to produce thousands of the electric buses for the China and Southeast Asia markets and will also export the buses globally. Alcoa will be the exclusive supplier of the new bus design, and also for the sheet product from its Bohai rolling mill in Qinhuangdao, Hebei. Alcoa will also be the exclusive supplier of forged aluminum wheels and fasteners to the project.
"It is certainly impressive that we were able to drop more than 1.2 tons from the weight of BYD's new electric bus compared to steel," said Jinya Chen, President of Alcoa's Asia-Pacific region. "However, this design is about more than just weight. The new design is durable, corrosion resistant, infinitely recyclable and expected to increase the range by at least 10 percent and withstand the rigors of everyday city driving."