An airborne wind turbine designed to take advantage of high-speed, consistent winds at high altitudes – and which can be deployed in 24 hours – is the winner of the ConocoPhillips Energy Prize, given in recognition of new ideas that can help improve the way that energy is developed and used in the United States.
The ConocoPhillips program, a joint effort with Penn State University, gives cash prizes to projects that offer feasible solutions in developing new energy sources, improving energy efficiency and combating climate change. This year's winner, the "Aerostat Platform for Rapid Deployment Airborne Wind Turbine," isn't the first airborne wind turbine to take a big award this year. But unlike Makani Power's flying airplane-like design, the aerostat is more like a power-generating blimp. According to Ben Glass, CEO of Altaeros Energies and inventor of the aerostat, the airborne wind turbine can deliver up to 100 kilowatts (kW) of electricity after simply being filled with helium and tethered to a power cable.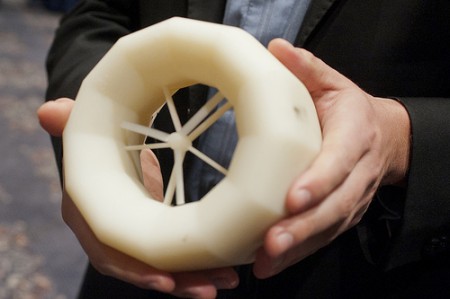 The company initially plans to sell the turbines for use in military applications and situations requiring emergency power supply. However, Glass envisions that the turbines will eventually be used to power large offshore, deep-water wind farms.
All five Energy Prize finalists received $25,000 to help further develop their concepts, and Altoeros Energies received an additional $100,000. The first runner up was Jason Aramburu, founder and CEO of "re:char," which manufactures small kilns to use locally manufactured biochar on farms in Kenya. The second runner-up was Mark Mascal, professor of chemistry at the University of California, Davis, for "Conversion of Plant Carbohydrates Into a New Generation of Biofuels and Substitutes for Petroleum Products." A complete list of finalists can be found here.
Become a Green Earthling Deal email subscriber by Friday, Nov. 4, and you could win a $100 Amazon gift card courtesy of EarthTechling!