Just about dead-center in the middle of the state, where the breezes often carry the scent of cattle, Nebraska is getting a new wind power plant, and it will be one of the biggest in a state with big wind power potential.
The $145 million Broken Bow Wind project will be constructed on a 14,000-acre site about three miles northeast of the town of Broken Bow, in Custer County, home to the state's biggest cattle feedlot. The project was announced by Edison Mission Group (EMG), a subsidiary of Edison International, along with Midwest Wind Energy and Nebraska Public Power District (NPPD). With 50 1.6-MW wind turbines mounted on 80-meter towers, the plant will have a generating capacity of 80 megawatts (MW), putting it virtually on par with two other plants EMG already operates in the state.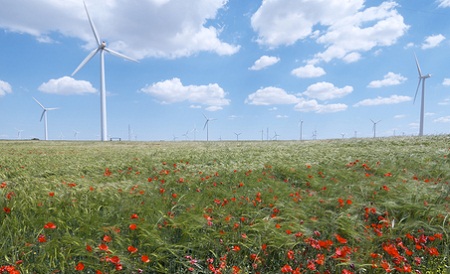 The project will be owned and operated by EMG, and all of the power generated by Broken Bow will be sold to NPPD under a 20-year power purchase agreement. The two other EMG wind power plants – the 80-MW Elkhorn Ridge wind farm near Bloomfield in Knox County, and the 80-MW Laredo Ridge wind farm near Petersburg in Boone County – also sell power to NPPD. Once the new Broken Bow wind farm is operational, about 5 percent of NPPD's total power portfolio will come from wind energy generated by the EMG wind projects, along with NPPD's Ainsworth Wind Energy Facility.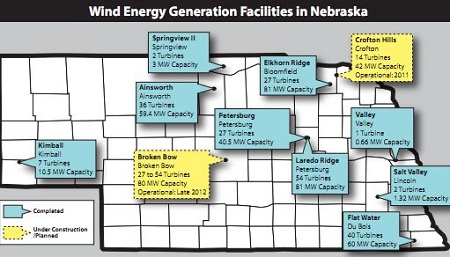 The project partners expect about 100 people to work on the plant construction at its peak, generating $5.6 million in state sales tax revenues. Once completed, the plant will generate average annual tax revenues of nearly $900,000 over its 25-year life in property taxes and state income taxes, and create around 10 permanent jobs in the Broken Bow area. Construction of the project is scheduled to be completed by November 2012.
"The addition of Broken Bow Wind moves NPPD closer to our board of directors goal of having 10 percent of our energy come from renewable energy," NPPD President and CEO Pat Pope said in a statement. "The energy produced will be shared with other Nebraska utilities, as we have done at other EMG wind farms."
Help Carbonfund toward their goal of planting 1,000,000 trees. Subscribe to Green Earthling Deals by Friday, Nov. 25, 2011, and EarthTechling will donate $1 for every new subscriber. See contest rules for details. Sign up in the upper right-hand corner at EarthTechling.com or right here.