Virgin Atlantic announced the development of a low-carbon aviation fuel with just half the carbon footprint of the standard fossil fuel alternative. How big was this news? Virgin chief Sir Richard Branson even made it to the company's press conference for the announcement.
Virgin developed the new fuel in partnership with LanzaTech and Swedish Biofuels, two low-carbon transport fuel companies. The technology will first capture waste gasses from industrial steel production. Those gasses will then be fermented and chemically converted into jet fuel. The production process recycles waste gases that would otherwise be burnt into the atmosphere as carbon dioxide. LanzaTech estimates that its process can apply to 65 percent of the world's steel mills, allowing the fuel to be rolled out for worldwide commercial use. The energy company believes that this process can also apply to metals processing and chemical industries, growing its potential considerably further.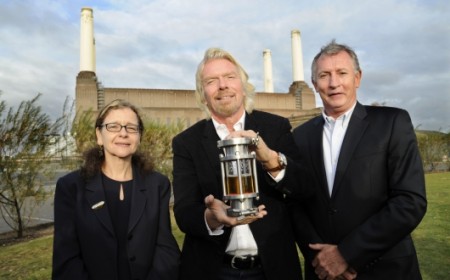 Within three years Virgin Atlantic plans flights with the new fuel on its routes from Shanghai and Delhi to London Heathrow as LanzaTech and partners develop facilities in China and India. The technology is currently being piloted in New Zealand, a larger demonstration facility will be commissioned in Shanghai this year, and the first commercial operation will be in place in China by 2014. Following successful implementation, a wider roll-out could include operations in the UK and the rest of the world.
In his inimitable manner, Branson explained the process on his blog, "In a nutshell, we are entering the recycling business. We will be recycling waste products, taking much of the  s**t from up the chimney stacks and turning it into aviation fuel."