For years, researchers have talked about using electric vehicle (EV) batteries to help smooth grid supply and demand, and now NRG Energy and the University of Delaware are moving to commercialize technology that would do just that, while allowing electric vehicle owners to sell energy stored in the batteries of their parked vehicles. The joint venture, called eV2g, is using patented technology developed by University of Delaware Professor Willett Kempton.
Driving this development is the basic fact that the electric grid often has to absorb random bursts of energy – and meet sudden surges in demand – in order to run smoothly. Where to put excess energy or draw needed energy? Parked electric vehicles that are plugged into the grid, that's where. Termed, "balancing the grid," the process would generate no additional emissions and could decrease electricity costs over the long term by delaying the need for new generation facilities.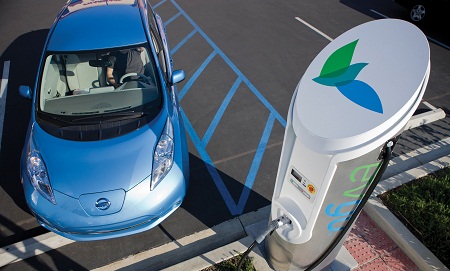 EV2g's technology would allow electric vehicle owners to actually earn cash selling battery storage back to the electric grid while the vehicle is plugged in. But what if you've got a trip planned and return to your car to find it sucked dry by the utility? EV2g says it will guard against that: EV owners will be able to schedule in advance when their vehicles need more charging than usual, and set a minimum level of charge they want to maintain in the car at all times. After energy is pulled from a car, eV2g collects payment from the grid operator and pays the electric vehicle owners for making their vehicles available.
Cool as this sounds, it might be a while before it reaches down to individual EV owners: EV2g said it foresees launching the program with fleet managers. "EV2g technology will for the first time offer a true two-way interface between EVs and the electric grid, resulting in cost savings to EV fleet operators and eventually other EV owners and consumers, and cleaner and more reliable electricity for everybody," said Denise Wilson, president of NRG's Alternative Energy Services. "It's one more way EV owners can commit to a sustainable energy future and get paid for it at the same time."
NRG's move in this space isn't surprising; last December we reported on the company's eVgo project, a network of EV charging stations planned for Houston and then other Texas cities.