The highways and byways of the U.K. are not crowded with hydrogen vehicles – yet – but at least now there's one more place to juice them up.
Honda recently announced the U.K.'s first open-access hydrogen vehicle refueling station has been officially opened at their manufacturing plant in the southwestern town of Swindon. The new station is open to anyone developing or using hydrogen-powered vehicles. It can fill vehicles at both 350 bar and 700 bar, the two standard filling pressures adopted by the world's major vehicle manufacturers.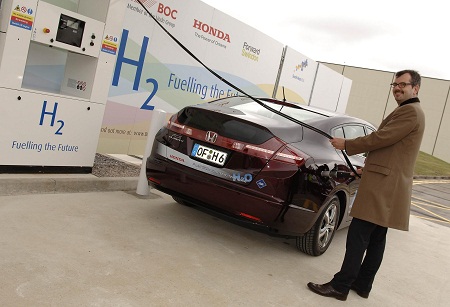 According to Honda, which currently markets the FCX Clarity fuel cell car, the station creates a strategic link halfway along the M4 between London and Swansea. As a fully operational, commercial-scale station using tested technology, it is a solution that can be replicated across the country, helping create the essential network necessary for the widespread uptake of hydrogen-powered transport.
The station, built and operated by industrial gases company BOC, was designed to have the same look and feel as a conventional filling station. A refuel generally takes only about five minutes. Mike Huggon, managing director of BOC in the U.K. and Ireland, said, "This is the first commercial-scale, open-access station in the U.K. It demonstrates that we can build the infrastructure needed to establish a hydrogen-powered transport system."