With the barrage of offshore wind farms planned for development in the North Sea, the United Kingdom is well aware of the challenges it will face delivering this new power to where it is needed. The UK's electricity system is one of the least interconnected in Europe. In order to export power, the UK would have to invest heavily in offshore transmission.
The Commons Energy and Climate Change Select Committee has recently released a report assessing the feasibility of building a European "supergrid", or high-voltage transmission system designed to facilitate large-scale sustainable power generation in remote areas for transmission across international boundaries to centers of consumption.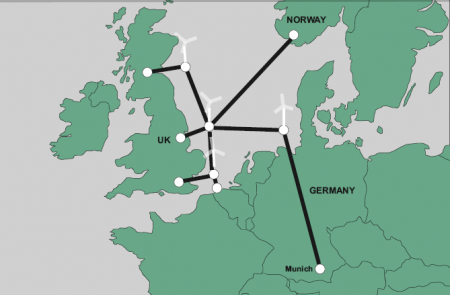 The Committee warns that the cost of developing such a supergrid could be very high, but it would have significant economic benefits. As more intermittent generation resources are brought online, a supergrid could allow the UK to become a net energy exporter.  It would also help ease the balance between supply and demand, which could become more difficult to manage in the future. Construction of a supergrid could also create tens of thousands of new jobs in the offshore renewable industry, and lead to further cost decreases for renewable generation.
The committee also argues that an offshore network could reduce the impact of new transmission on the UK's aging onshore grid. According to Tim Yeo MP, Chair of the Energy and Climate Change Committe, developing offshore resources and connecting them to onshore transmission lines individually could become prohibitively expensive in the future.
"Developing an integrated and interconnected offshore network would allow us to tap these huge resources cost-efficiently and prepare the ground for a future European Supergrid – if it is necessary and feasible in future," Yeo said.
The entire report can be found here.