Most sailboats feature a loud, stinky, expensive-to-fuel auxiliary diesel engine that always seems to break down at the absolute worst possible time. The new Legend e36 HYBRID promises quiet, emission-free, dependable and cheap cruising thanks to its Elco EP-4000 AC electric motor, which can be powered by renewables.
Legend claims the e36 has a cruising range of range of six to eight hours at five knots between charges when under battery power only. When integrated with natural energy sources such as a wind generator or solar panels this range becomes limitless. The Elco electric motor fits in traditional diesel motor mounts and actually weighs less than a traditional engine. Even better, Elco says that maintenance costs of the engine are considerable lower than a diesel engine. The company claims the motor only needs a check up after 50,000 hours of use.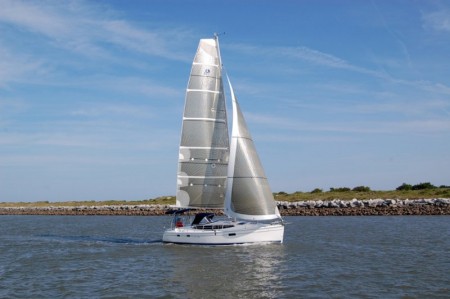 Legend has been showing off the new hybrid at yacht and boat shows worldwide lately. The show model features Elco EP-4000 AC electric motor; Valance lithium iron magnesium phosphate marine 12-volt batteries; Polar DC marine 14-killowatt generator; Super wind 350 wind turbine; and Kyocera 135 solar panels. All that can be yours for around $180,000.
Richard Hewett, managing director of Marine Sails U.K., the company that markets the boat, commented, "To be able to offer a real, green alternative to the traditional diesel engine on yachts without any change in boat price or performance is very exciting. We have seen a very real demand for a green solution for many years and are delighted and proud to be leading the market yet again with this innovative technology."
Become a Green Earthling Deal email subscriber by Friday, October 28th and you could win a wireless solar keyboard from Logitech! Either Mac or PC, it' your choice.