With an annual utility bill of more than $15 million, it's no wonder Edwards Air Force Base is looking to solar energy as a way to save money. (It also doesn't hurt that Edwards is in California's Antelope Valley, a hot-spot for solar development.) The base has begun work on the installation of three 1-megawatt (MW) solar farms at its flight test center. The move comes after nearly three years of planning and coordination with Southern California Edison (SCE), the California Public Utilities Commission (CPUC) and environmental agencies.
The systems will be owned and maintained by Borrego Solar, a commercial solar developer based in El Cajon, Calif. The base will buy the power produced at the facility under a power purchase agreement. The flight test center will also purchase power from SCE under its net metering program, which allows it to seamlessly switch from solar power to grid power when the sun goes  down. The project is expected to be completed around the end of the year.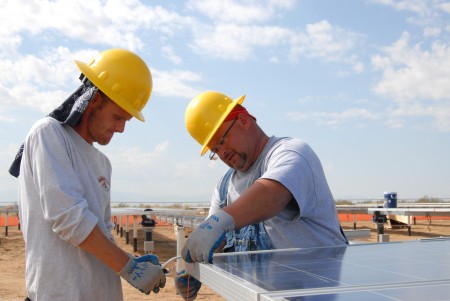 According to 95th Civil Engineering Director James Judkins, the base's utility bills currently double in the summer, while its energy consumption only increases by 3 percent. The solar farms, therefore, represent an opportunity for the base to save a lot of money. "When the sun is up, and the plants are generating power and feeding it to us, we won't have to pay Southern California Edison some of the high-demand charges from June through September," Judkins said.
The base is also considering pursuing additional solar development on-site, including an enhanced-lease agreement. This would enable the base to lease portions of its land to solar energy developers to install solar parking lot canopies, for example. Money earned from the lease would be reinvested into the base infrastructure and other energy-saving efforts.