Scientists at the Empa, the Swiss Federal Laboratories for Materials Science and Technology, earlier this year claimed a world-record efficiency of 18.7 percent for flexible copper indium gallium (di)selenide (CIGS) solar cells on plastics. Now the scientific details of their novel low-temperature deposition technology and the multilayered device have been published in the journal Nature Materials, and the researchers say they are excited about the possibility of using the process on low-cost metal foils such as aluminum or low-carbon steel.
According to the researchers, the key to their thin-film breakthrough is the control of the energy band gap grading in the CIGS semiconductor, the layer that absorbs light and converts it into electricity.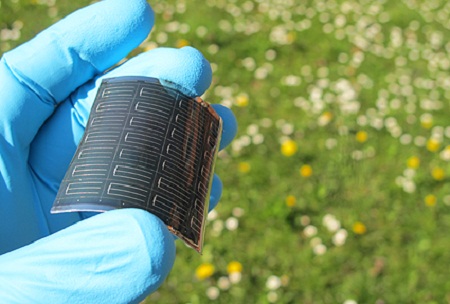 The lab says doctoral students Adrian Chirilã and Patrick Bloesch got the composition profile for the CIGS layer just right for enabling more efficient charge carrier collection and reduced interface recombination "by developing an innovative growth process by carefully controlling the Ga and indium (In) evaporation flux during different stages of the evaporation process."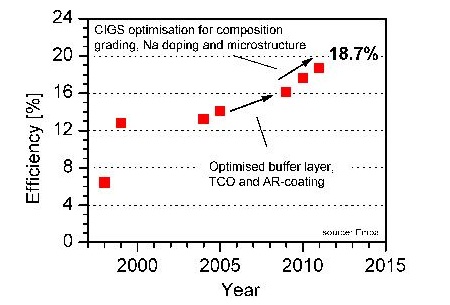 The low-temperature process developed by the Swiss team not only yielded an 18.7 percent-efficiency cell on polymer foils, the lab says, "but also another record efficiency of 17.7 percent on steel foil without any diffusion oxide or nitride barrier layer" typically used in higher-temperature processes.
"We have thus shown that this low-temperature process is also applicable on low-cost metal foils such as aluminum or Mild-steel, achieving comparably high-efficiency cells and indicating a severe cost reduction potential with this technology," says researcher Ayodhya N. Tiwari.