A proposed offshore wind project for the Great Lakes was recently shelved by the state of New York, but efforts to develop offshore wind farms in Ohio and Michigan are moving forward. Researchers at Grand Valley State University, the University of Michigan and Michigan State University will soon deploy a research buoy to assess Lake Michigan's wind resource. The WindSentinel buoy can measuring wind characteristics up to 150 meters above the water, and is one of only three of its kind in the world. According to Arn Boezaart, director of the Michigan Alternative and Renewable Energy Center at Grand Valley, the launch of the buoy will be the first use of this technology in North America.
The 8-ton, 20-by-10-foot boat-shaped buoy was built by AXYS Technologies of British Columbia, and will come equipped with a Vindicator laser wind sensor manufactured by Catch the Wind of Virginia. The Vindicator unit, designed primarily for use on existing wind turbines, provides a predictive, three-dimensional view of actual conditions, enabling the user to optimize wind turbine performance.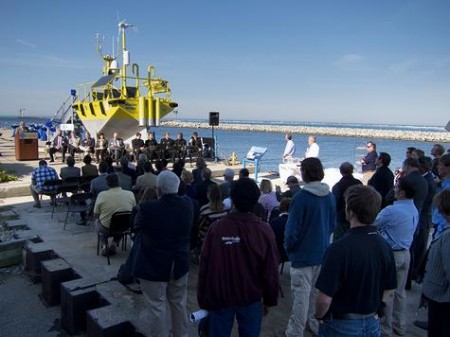 Researchers hope the assessment will provide valuable information about the potential for offshore wind energy development on Lake Michigan. After performing a week of tests on Muskegon Lake, a freshwater lake just inland from Lake Michigan along its eastern shore, the buoy will be placed four miles offshore on Lake Michigan for a month. There, it will transmit real-time data from the platform to researchers at Grand Valley and University of Michigan, as well as the Michigan Natural Features Inventory of Michigan State University, where researchers will focus on bird and bat flight patterns and migration studies.
In June 2010, the project was awarded $3.3 million in grants and research funds, including a $1.33 million energy efficiency grant from the Michigan Public Service Commission. Other funding partners include the U.S. Department of Energy, We Energies, University of Michigan and the Sierra Club.