The past year or so hasn't been kind to concentrating solar thermal companies, as plunging photovoltaic prices have led developers to ditch the technology for several high-profile projects, including the Calico and Blythe utility-scale plants in California. But Sopogy, for one, is fighting back, introducing SopoHelios, its next-generation parabolic collector.
"SopoHelios maximizes the efficiency for our solar thermal systems and significantly improves the system paybacks," said Darren T. Kimura, president and CEO of Sopogy. Kimura said because of enhanced efficiency, fewer collectors would be required on projects, reducing engineering and construction costs and speeding up solar field assembly.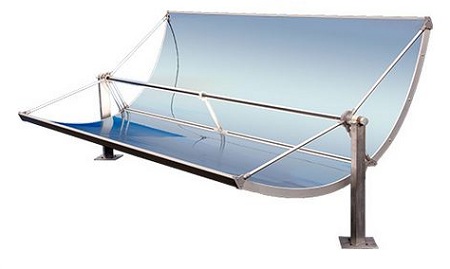 SopoHelios features "a light-weight core, solar tracking, all-weather stow mode, ease of assembly, low maintenance and the capability to enable local manufacturing," the company said.
Concentrating thermal does have some inherent advantages over photovoltaic, as it can be used for power generation or process heat (think steam used in food processing), and can also be combined with absorption chillers to run air conditioning systems that displace electric load.
Honolulu-based Sopogy said it tested SopoHelios "in the hot, lava field deserts of Kona for strength, torsion and durability." The system will soon move from testing to real-world application, with SopoHelios due to be used at Kalaeloa Solar One, a 5 megawatt power plant being built about 15 miles outside Honolulu, Sopogy said.
Become a Green Earthling Deal email subscriber by Friday, October 28, and you could win a wireless solar keyboard from Logitech! Either Mac or PC, it's your choice.