What, exactly, is a net zero attainable home? According to Sunstone Homes, it's a home that is capable of going off the grid and producing all of its own power, as per a number of their new homes on offer in and around Tampa Bay, Fla.
Sunstone's base Green model runs from $95,000 to $160,000 and comes standard with the infrastructure necessary to attain net zero status via solar upgrades the owner can install when he or she is ready. This base Green model is Energy Star rated and will save the home owners an average savings of around $1,000 on energy utility bills when compared to a normal home of its size, according to Sunstone.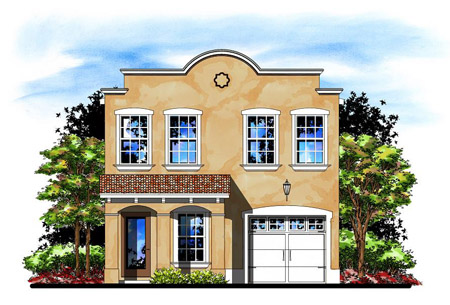 Should you have another $20,000 to spend on your new home, however, you can go straight to Sunstone's Greener model, which achieves net zero status via a solar thermal and solar photovoltaic system mounted on the roof, the latter of which is tied to the utility grid to offset the annual energy needs of the home. Kick in another $20,000-plus and you can even get the Greenest model, which includes a battery bank system designed to allow the house to operate independently from the grid during storm events and power outages. (It also works with the grid, under regular circumstances, for improved efficiencies.)
Sunstone Homes recently unveiled these homes in a ribbon cutting ceremony attended by civic leaders, including Thom Greene, Tampa's green officer, who noted that such homes help to address future needs and goals of the city in sustainable building and development practices.