The University of Minnesota has announced that it has installed a wind turbine at its new Wind Energy Research Station at UMore Park, a 5,000-acre University-owned property in Dakota County, approximately 25 miles southeast of the Twin Cities campus. The school's St. Anthony Fall Laboratory was one of three university consortia to be awarded a grant from the U.S. Department of Energy in 2009 to support wind energy research. The $7.9 million award, funded through the American Recovery and Reinvestment Act (ARRA), supported the founding of an academy-industry consortium, and construction of a 263-foot-tall, 2.5-megawatt Clipper Liberty wind turbine at the new facility.
The Wind Energy Research Station will host active research and education and training opportunities for wind industry workers. Research projects at the facility are focusing on improving wind farm design, minimizing turbine impact on radar, reducing turbine noise, preventing ice build-up on blades, monitoring turbine performance and improving turbine blade structure.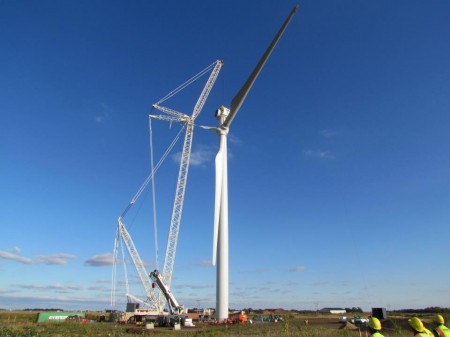 Early-stage funding for the research was provided by the University of Minnesota's Initiative for Renewable Energy and the Environment and UMore Park. Consortium partners include the University of Minnesota-Twin Cities, Center for Compact and Efficient Fluid Power, Syracuse University, Dakota County Technical College, Mesabi Range Community and Technical College, 3M, Barr Engineering, Clipper Windpower LLC., United Technologies Research Center, Lockheed Martin, Micron Optics, Ryan Companies, WindLogics, Xcel Energy, Sandia National Laboratories and the National Renewable Energy Laboratory (NREL).
"This new Wind Energy Research Station is about promoting research collaboration between academia and industry to improve wind energy efficiency and reliability," said Fotis Sotiropoulos, director of the St. Anthony Falls Lab and consortium leader. "An impressive array of consortium partners have come together to make this happen. This is about helping the nation reach the goal of producing 20 percent electricity from wind by 2030 through cutting-edge research and work force training."