According to the University of Miami's President Donna E. Shalala, the university's new Life Science & Technology Park's R + D Building One — which opened recently with LEED Gold status — is a "game-changer" for Miami, the state of Florida, and beyond.
The new building is the first of five buildings planned for the eight-acre park, and is located on land once dominated by automobile yards — a factor which no doubt helped in securing the facility's 2011 Urban Land Institute Project of the Year Vision Award. This six-story, 252,000-square-foot building is home to both wet and dry labs, offices and lab-ready development suites, all of which were designed to give scientists, medical start-ups, pharmaceutical companies, and other ventures a research space fostering collaboration and innovation.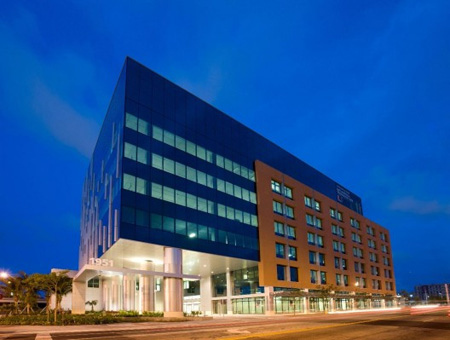 "This is more than a building," Shalala said to the crowd of almost 300 people who gathered in the lobby of R+D Building One for its grand opening in September. "This is a place where education, research, and technology intersect with discovery and innovation. This is the home of future cures and treatments for some of the most vexing and chronic problems we face today."
Features wise, the center includes diffusers that dispense cool air only when needed, reducing energy consumption by up to 25 percent. Being as it is in hurricane country, it also sports a special curtain wall that resists wind loading up to Category 4 hurricane winds.
The building's tenants include Andago, a Spain-based information technology company; Emunamedica, a medical device firm; Community Blood Centers of South Florida; DayaMed, a medical device company; Novak Druce + Quigg, a national intellectual property law firm; the Enterprise Development Corporation of South Florida; AdvancedPharma, a clinical research firm; and the University of Miami Tissue Bank. More than 60 percent of the building has now been leased.