Next time you fly into Chicago's O'Hare Airport, take a peek out your window and see if you can spy the U.S.'s largest vegetated roof at an airport. How big? Three football fields (or just under 175,000 square-feet) big. The roof sits atop FedEX's recently opened package sorting center.
The green roof is just one of the transportation company's  many environmental-friendly initiatives. In addition to adding a nice view for visitors flying by, the roof is also said to help: reduce air pollution and store water runoff, extend the life of the roof by an additional 20 to 30 years, lower energy costs by 35 percent and reduce airport noise.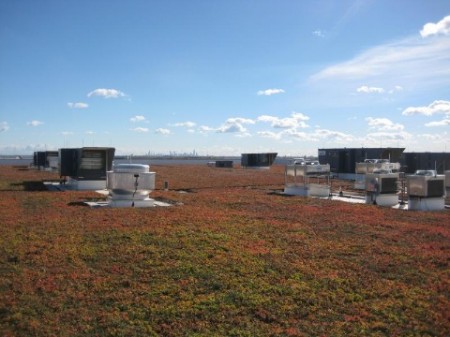 FedEx and the O'Hare Modernization Program are also pursuing Leadership in Environmental and Energy Design (LEED) certification for the facility.  Earlier this year, FedEX  announced that it would be seeking LEED certifications for all of its US FedEx Express properties.
As for O'Hare itself, the new green roof is just one of many additions to make the airport a more environmentally friendly place.  O'Hare is the first airport to provide a habitat for honeybees, creating the first on-airport apiary. Other measures undertaken at the airport include: installing energy efficient lighting, recycling construction materials and using vehicles that produce clean emissions on the airfield.