While evironmental regulations governing streams and rivers present challenges to deploying small hydropower in the great outdoors, the next frontier for such water turbines may be the "streams" that flow beneath our city streets, as per the recently signed deal between Portland, Ore., and Lucid Energy to develop a hydropower system within the city's water mains.
Using the company's patented LucidPipe Power System, a proprietary turbine that captures energy from fast-moving water inside gravity-fed water pipelines, the city and the Portland Development Commission will work with the Portland Water Bureau to develop a hydropower system within the city, with the goal of providing power to eco-districts, EV charging stations, desalination plants, purification systems and off-grid water agency tasks.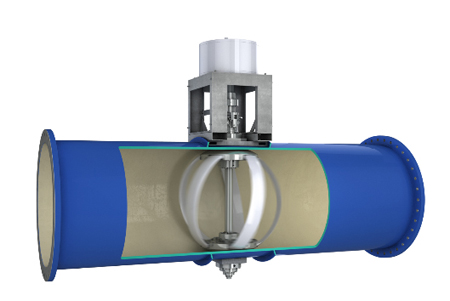 Generating electricity in this way is expected not only to decrease the demand on the grid for new applications, but also to cut electricity costs for the Water Bureau, which plans to pass those savings on to customers. "We are very motivated to find ways to reduce the costs of delivering water to our customers," said David Shaff, Portland Water Bureau administrator, in a statement.
Mayor Sam Adams, however, focused on the big picture, saying, "This agreement with Lucid Energy is an opportunity for us to extend Portland's position as a living laboratory for green innovation and advanced manufacturing – and commercialize new technologies in our marketplace that will lead to more jobs, more investment, and more exports of locally-developed systems."
Lucid Energy's in-pipe hydropower systems are targeted at large water users such as municipal water and wastewater systems, agriculture irrigation districts and water-intensive industries (such as pulp and paper plants), chemical processing, data centers, semi-conductor fabricating, aluminum manufacturing and thermo-electric power plants.