Portland's Earth Advantage Institute in recent years has certified more than 11,000 green homes, with the aim of bolstering the market via standardized MLS real estate listings. Now this nonprofit is striking out in a new direction with the Eco Neighborhoods pilot program, designed to promote the development of green neighborhoods.
Well, not so fast. The organization is currently seeking expressions of interest (EOI), with the aim of determing whether there is "sufficient market interest" in a program that would rate and certify the livability and accomplishments of existing neighborhoods. These EOIs will be accepted until November 30, at which time the organization will determine whether to proceed with a full-blown certification program for green neighborhoods.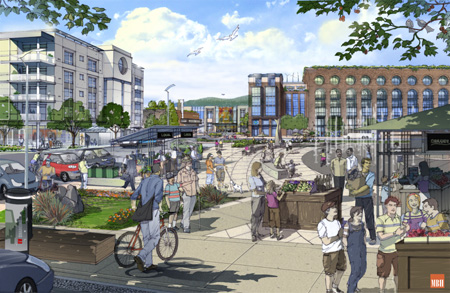 Residential neighborhoods, public housing projects, business districts, office and industrial parks, shopping centers, resorts, education and medical campuses and military housing areas with a focus on sustainability are invited to submit an EOI – however, Earth Advantage's proposed certification program also aims to "go beyond green" to encompass a broader set of social, economic and cultural accomplishments.
Towards that end, neighborhoods will be rated not just on how they treat the land (open space protection, wetlands protection, energy efficiency, etc.) , but on how green their businesses are, how well the neighborhood as a whole embraces civic values, as well as how well the community protects human health and provides essential human services such as job training and senior support.
According to Earth Advantage, certifying the accomplishments of these existing neighborhoods can strengthen local participation, reinforce values and improve outcomes. To achieve these results, the Eco Neighborhoods concept will focus on existing, fully developed neighborhoods that are at least five years old and have a demonstrated record of accomplishments. Interested representatives of such neighborhoods are invited to submit an EOI online.