With no warning and no explanation, the giant solar manufacturer First Solar announced yesterday that Chief Executive Rob Gillette was out and that Chairman and founder Michael Ahearn was in as interim CEO. Industry observers were gobsmacked.
"We could only speculate that this abrupt move might be related to differing views on the [long-term] strategic direction for the company in light of rapidly changing industry dynamics," Sanjay Shrestha, an analyst at Lazard Capital Markets, told the Wall Street Journal. "We don't know if he was fired, or if he left under his own accord," Avian Securities analyst Mark Bachman told the Association Press. "There's just an air of uncertainty around this company now."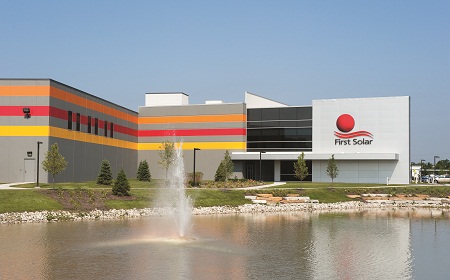 First Solar, the nation's largest solar company, is facing obvious challenges, with plunging crystalline silicon photovoltaic prices evaporating any price advantage its cadmium telluride thin-film cells might have in the market. The company's stock has been a disaster this year, sliding from a 2011 high of $168.22 in February to the mid-$50 range this fall, then plunging to the low-$40s on word of Gillette's exit yesterday. Gillette was named to the CEO post in 2009. Previously, he ran Honeywell Aerospace.
That being said, the company surprised everyone yet again today by issuing its third-quarter earnings a week early, reports the Washington Post. This helped to bump the stock back up a little bit. As part of the earnings statement, Ahearn elaborated on Gillette's exit, making it clear the CEO was fired. "We thank Rob for his service, but the Board of Directors believes First Solar needed a leadership change to navigate through the industry turmoil and achieve our long-term goals," Ahearn said.
First Solar did eke out federal loan guarantees for two big projects in late September. It sold the projects, but is still set to develop and operate them. But there won't be any more loan guarantees for giant installations coming, as that program has wrapped up. Meanwhile, the combination of a very competitive supply environment and weakening demand in the big European markets obviously has the Tempe, Ariz.-based company unsettled, at best – particularly after Gillette had prepared First Solar for rapid growth.
"Rob Gillette made one overwhelmingly bad decision," Paul Leming, an analyst at Ticonderoga Securities, told Bloomberg News. "He made the decision early in his tenure to put the company on an aggressive capacity expansion."
Become a Green Earthling Deal email subscriber by Friday, October 28th and you could win a wireless solar keyboard from Logitech! Either Mac or PC, it' your choice.