Portland, Ore., electric vehicle advocates had something to cheer this week when they stood alongside politicians and officials from Ecotality and Fred Meyer to mark the installation of the very first Blink DC fast charging station, at the Hollywood District Fred Meyer store in the Rose City.
The Blink DC fast charging stations are being deployed as part of the EV Project, which is being managed by Ecotality and is the largest deployment of EV infrastructure to date. The $230 million public-private initiative is funded with a $114.8 million grant from the U.S. Department of Energy through the American Recovery and Reinvestment Act. The EV Project includes 16 states and major metropolitan areas, and if all goes as planned will result in the installation of over 14,000 charging stations, over the course of three years.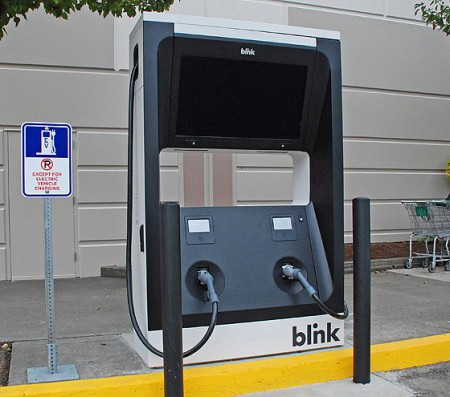 In March 2011, San Francisco-based Ecotality struck a deal with Fred Meyer to install its Blink electric vehicle chargers at select stores in Oregon and Washington. Fred Meyer joins BP, Best Buy and Cracker Barrel as corporate partners to Ecotality, which is in the process of rolling out 1,100 public chargers in Portland, Salem and Eugene, of which 30 will be fast chargers.
While the Portland area has a number of public EV chargers available, the new Blink fast charger provides the fastest EV charging rates currently available and can charge a Nissan LEAF to 80 percent capacity in under 30 minutes.