Sustainable food production and renewable energy go hand-in-hand, but rarely are both produced in the same location. Not so at Piedmont Biofarm, an organic farm in Pittsboro, North Carolina. Not only does the farm share a campus with Piedmont Biofuels, a biodiesel producer, consulting firm and educator, but it also now hosts a 92.16-kilowatt (kW) photovoltaic (PV) system.
The "Solar Double Cropping" project, a collaboration between Miraverse Power and Light, Piedmont Biofuels, Southern Energy Management, and Piedmont Biofarm, is especially unique because it is installed with nine feet of clearance over cultivated land, allowing electricity to be generated over crops that thrive in partial shade.
The system consists of 288 SunPower panels, and is being installed by Southern Energy Management, a Morrisville-based solar installer. "We love this project because it challenges us to think about land use, climate change and where our food comes from, all at the same time," said SEM co-founder Maria Kingery. "This is the kind of project that made us want to get into the solar business in the first place and we hope to see many more projects like this in the future."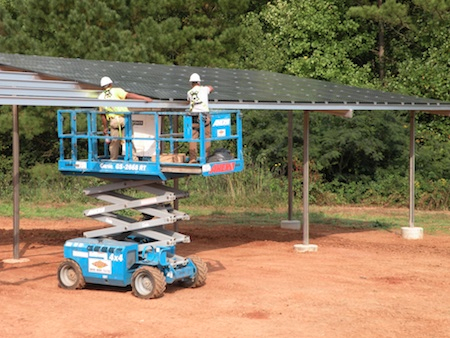 According to Lyle Estill, co-founder of Piedmont Biofuels, the project aims to address the banning of solar installations on prime farmland.  "We intend to demonstrate the ability to make electricity and grow food in the same space at the same time," he said.
The project is the culmination of two years of planning, design, and engineering, and the opening of a formal docket by the North Carolina Utilities Commission.