Want to compare your home energy usage with your friends? There will soon be an app on Facebook to do just that. The Natural Resources Defense Council (NRDC), energy information software company Opower and the social networking giant have teamed up to develop the new energy application.
Using the new social energy app, users will be able to compare their home energy usage against the national average of similar homes and with the energy usage of their friends. They will also be able to compete in energy-saving competitions and share tips on how to be more energy efficient.  Creators say the app gives consumers the chance to pull home energy-data from their utility provider and use it to encourage greater energy savings.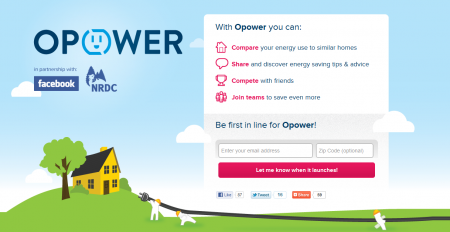 New energy efficiency improvements  have the potential to provide for more than $700 billion in cost savings in the U.S. alone, according to the NRDC.  Studies have shown that the average U.S. consumer spends only six minutes per year thinking about their energy consumption. The Opower app is meant to change that by putting energy consumption on the minds of consumers through social networking.
While the app won't launch until early 2012, visitors to the site can input their email address and be notified when it comes online. So far, three utility companies have signed on to offer their customers the ability to import usage data into the social energy application. Several other utilities companies are expected to join up in the coming weeks.