For homeowners, the appeal of solar shingles is that they blend, visually, with composite roofing shingles. For homebuilders, the appeal is that they can be installed by a professional roofing contractor, and easily integrated into existing systems, budgets and schedules for new construction. Dow Solar, a division of Dow Chemical Company, is the first really big name to enter the solar shingle market – and it's doing so in a curiously small way. Dow announced it will make its Dow Powerhouse solar shingle systems commercially available exclusively to homeowners in Colorado.
The shingles are being sold as part of a three-part solar roofing system, which includes an array of shingles, an inverter and an energy monitoring system. Homebuilder D.R. Horton will kick off the launch by installing 3-kilowatt solar shingle roofs on 50 new homes in its Spring Mesa community near Denver. Dow is not the first company to develop a solar shingle, but its strong brand recognition, warranty and partnership with huge builders like D.R. Horton could give it an edge in this market. The company plans to establish a network of authorized dealers in Colorado, and will also launch Powerhouse in another, undisclosed U.S. market in the coming months.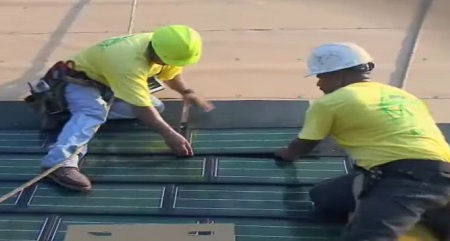 The shingles are manufactured at Dow's small-scale facility in Midland, Mich., but the company has begun construction of a new, larger facility at its Midland Operations site, which is expected to create up to 1,275 jobs by 2015.
According to Neal Lurie, executive director of the Colorado Solar Energy Industries Association, Colorado is an ideal market for the introduction of new solar technology. "Colorado is a national leader in solar energy innovation and job creation. We have the right combination of public sector support, private sector commitment, homeowner interest and an enthusiastic community of builders and installers," Lurie said.
Become a Green Earthling Deal email subscriber by Friday, October 28, and you could win a wireless solar keyboard from Logitech! Either Mac or PC, it's your choice.