The  first all-electric Nissan Leaf has been delivered to its new owner in Canada. Ricardo Borba of Ottawa received the keys to his black Nissan Leaf SL in a special event in his hometown, according to the auto manufacturer.
Borba was the first Canadian to purchase the 2011 Nissan Leaf, which Nissan says is the first all-electric car to be brought to the mass market. The company will continue to deliver the 2011 Leafs throughout Canada in the next few weeks. In late October, the company will start taking reservations for the 2012 model. To be eligible to reserve the car, consumers will need to live near one of 27 electric vehicle-certified dealerships in Canada and be registered with the company.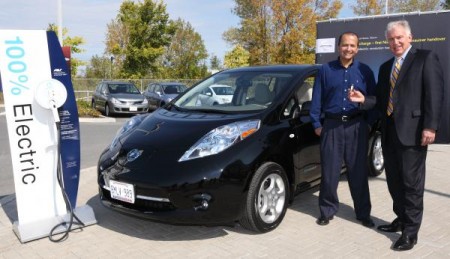 Nissan estimates as many as 600 Leafs will be driving on Canadian roads by the end of 2012. The Leaf is a mid-size hatch-back with seating for five. One full charge allows the car up to 160 kilometres distance of driving. A full charge can be reached in seven hours with a 240-volt home charging dock. Using a quick charger, it is said, means 80 percent of the battery can be charged in under half an hour.
The Leaf is powered by a lithium-ion battery that generates 107 horsepower and 207 lb-ft of torque. Because the car lacks a typical engine, Nissan had to add sounds to warn pedestrians of its presence.