BP Wind Energy – yes, part of that BP – has announced plans to build a 419-megawatt (MW) capacity wind farm on a 66,000-acre site about 43 miles southwest of Wichita in south-central Kansas. If or when it's built, it would be the largest wind farm in the state of Kansas.
Here are the details: The Flat Ridge 2 wind-power plant would comprise 262 1.6-MW GE wind turbines (pictured below) in Barber, Harper, Kingman and Sumner counties. After securing all of the necessary permits, BP anticipates that construction could begin in the fourth quarter of 2011, with the plant expected to be fully operational by the end of 2012. BP has already locked up a power purchase agreement with Associated Electric Cooperative to provide 314 MW of power to its 875,000 customers in Missouri, Oklahoma and Iowa.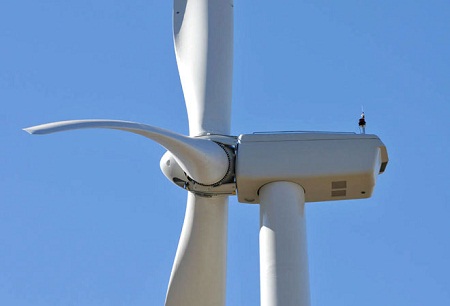 BP expects the $800 million project to create 500 jobs during peak construction and generate over $1 million annually for local communities.  "We have enjoyed working closely with BP Wind Energy to create jobs and grow the economy in our state." said Kansas Governor Sam Brownback. "Kansans have a proud history of meeting the needs of the world. We export wheat to feed the hungry and will now be exporting our latest crop – clean, reliable and affordable wind energy to power the needs of our nation," he said.
According to Reuters, BP Wind Energy now has 13 smaller wind farms in seven states with installed capacity of 1,600 MW, enough to power 500,000 U.S. homes. The 50-MW Flat Ridge 1, also owned and operated by BP Wind Energy, is several miles from the larger proposed Flat Ridge 2, in Barber County. The Flat Ridge 1 farm has been generating power for Westar Energy since February 2009.