BMW introduced their new ActiveHybrid 5 concept at the 2010 Geneva Auto Show last year. The company now says the luxury hybrid sedan is nearly ready for you to drive home and impress your neighbors.
And what an impressive ride it is –  the new Bimmer combines a BMW TwinPower Turbo six-cylinder in-line engine, an electric drive system, and an eight-speed automatic gearbox. What that means is that the combo of the three-liter, turbocharged gas engine and the 40 kilowatt electric motor powered by a lithium ion battery combine to deliver a total output of 340 HP.  While the battery adds some weight to the car, it also adds an additional 55 hp and 155 lb-ft of torque. In the real world, that means 0 to 60 acceleration in a pretty dang zippy 5.7 seconds. Expected fuel economy is around 40 to 44 miles per gallon, based upon imp – no specific fuel economy was given for the American version, though it has been noted by BMW that the hybrid has "a double-digit percentage improvement in fuel economy over the BMW 535i based on preliminary results."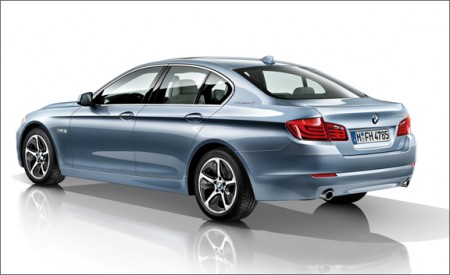 As you would expect from a high-end luxury sedan, the ActiveHybrid 5 comes with plenty of bells and whistles. Built on the chassis of the BMW 535i, the new hybrid features automatic start-stop, useful for in- town driving. This feature turns the engine off when the vehicle is standing still; when coasting, the engine can be shut off at speeds up to 100 mph, and the electric motor takes over as needed. The coasting mode also disconnects the engine and the driveshaft so that engine braking doesn't slow the vehicle.
The ActiveHybrid 5 comes equipped with an energy control display and an Eco Pro mode that acts on the vehicle's transmission and throttle to provide a relaxed and efficient drive. The vehicle comes with standard navigation system and four-zone climate control. No specific pricing information was mentioned for the American version, which will arrive as a 2012 model in February, but a recent report from Germany says pricing there will be around 62,900 euros starting.