A major expansion in wind-power capacity is under way in Iowa. Siemens Energy, Mortenson Construction and MidAmerican Energy recently completed the expansion of MidAmerican Energy's wind-power plant near Pomeroy, the first phase of a larger expansion project that will ultimately add 258 wind turbines to three MidAmerican projects in the state this year.
The addition of 13 Siemens 2.3-MW wind turbines at the Pomeroy-area plant added 29 MW of capacity. The remaining 245 turbines will be erected at MidAmerican's Rolling Hills and Laurel wind plants by year-end. After the expansion, the three-plant project will have a combined capacity of 593.4 MW, enough to power about 190,000 homes.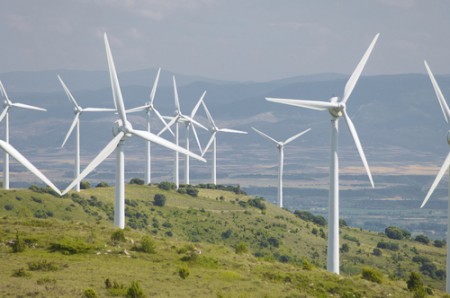 Both Siemens and MidAmerican have demonstrated a strong commitment to Iowa's wind-power sector. MidAmerican owns the most wind generation capacity of any regulated utility in the United States. Once the expansion project is complete, wind power will represent approximately 26 percent of the company's total owned generation capacity.
With its turbines providing more than 4,200 MW of installed wind capacity, Siemens is the nation's second-leading wind-turbine manufacturer. For the past five years, Siemens has operated its 600,000-square-foot wind-turbine-blade factory in Fort Madison, Iowa, where it is the largest employer.
EarthTechling is launching a weekly green deals service in October called Green Earthling Deals. Sign up for the weekly email by Monday, September 19th and you'll be entered to win a custom iPad or iPhone case from the extraordinary designers at Grove. More details can be found on EarthTechling's Contests page.