With the 2011 Frankfurt Motor Show just around the corner, we are starting to see a lot of interesting green car concepts being unveiled that will be showcased at this event. One of the ones most drool worthy at the moment is the new VW NILS, described by the European automaker as a "single-seat electric concept vehicle that offers a glimpse of a new form of minimalist mobility." Umm, yup – definitely fits that.
VW says the NILS concept has a range of 65 kilometres (40 miles) and a top speed of 130 km/h (80 mph), which is reportedly ideal for the majority of German commuters. The car certainly doesn't take up a lot of space on the road when being driven, measuring 3.04 metres long, 0.39 metres wide from wheel to wheel and 1.2 metres tall.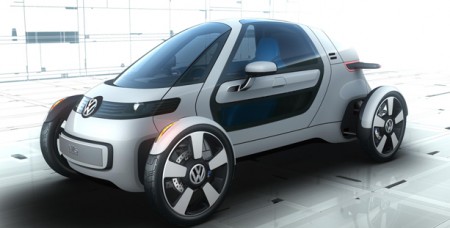 The NILS is said to have a similar layout to that of a Formula 1 race car, with the driver in the middle, the engine in back, and free-standing outboard wheels. It is lightweight at 460 kg and can accelerate to 100 km/hr in less than 11 seconds. It has an electric motor with 15 kW nominal power and short-term peak power of 25 kW. This motor is powered by a lithium ion battery that supports enough energy for driving ranges up to 65 km.
For safety while driving, the NILS concept is outfitted with an automatic distance control system that uses "radar sensors to scan the space in front of the vehicle over a distance of about 200 metres and uses brake interventions to ensure that the distance to vehicles in traffic in front of the car does not drop below a specified minimum value." It can even reportedly automatically brake the car to a stop if needed.