The nationally recognized Fort Worth Zoo in Texas attracts over a million visitors each year. With more than 500 animal species, a world-famous reptile collection and a rock climbing wall, it's hard to think of anything that this popular attraction might be missing. Now, the Forth Worth Zoo is also home to a 47.5-kilowatt (kW) solar photovoltaic (PV) system, made possible by donations through Green Mountain Energy's "Sun Club" program. The system is expected to produce 93,000 kilowatt-hours of electricity per year.
The Sun Club program enables Green Mountain's Texas customers to support solar energy development and education in Texas through a voluntary $5 contribution added to their monthly electricity bill. To date, the program has installed almost 400 kW of new solar PV capacity at locations across Texas, including the Ronald McDonald House of Austin, the Dallas Children's Theater, the Houston Zoo, Texas State Technical College and the Texas State Aquarium. Three additional PV arrays are scheduled to be installed through the program in 2011 at the University of Houston, Gladys Porter Zoo (Brownsville) and Cameron Park Zoo (Waco).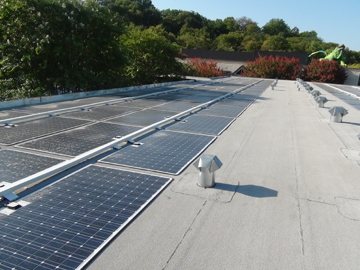 "Green Mountain's Sun Club customers helped make these solar arrays in Texas possible," said Green Mountain CEO Paul Thomas. "They have supported our mission to change the way power is made, while helping us give back to the communities where our customers live, work, shop and go to school."
Green Mountain Energy, a competitive retail provider of clean energy and carbon offset solutions, was founded in 1997 to "change the way power is made." The company is the longest-serving marketer of green power in the country, among its customers is the Empire State Building in New York City. Collectively, Green Mountain customers have helped avoid over 11.3 billion pounds of CO2 emissions, the company says.
EarthTechling is launching a weekly green deals service in October called Green Earthling Deals. Sign up for the weekly email by Monday, September 19th and you'll be entered to win a custom iPad or iPhone case from the extraordinary designers at Grove. More details can be found on EarthTechling's Contests page.