[Editor's Note: This article is part of our ongoing coverage of Solar Decathlon entries leading up to the event's kick off on Sept. 23.]
For this year's Solar Decathlon, Ohio State University's team decided to make a home that was suitable for a family but still dealt with the growing energy issue in the world. The result was enCORE, a family home arranged around a central core, as the name suggests, of mechanical and plumbing systems. Ohio's team believes that neighborhoods in the Columbus area could benefit from rejuvenation and renovation, and so enCORE is designed for such an event. Specifically, it is designed as a sustainable option for the redeveloping of lower-income neighborhoods, as it will save residents money.
enCORE's design makes a conscious effort to emphasize the closeness of nature, and to provide the maximum comfort and space for residents, who are imagined to be a couple with a young child. The 930-ft2 house is spacious, as the mechanical elements of the house are consolidated into one location, leaving the rest of the space free for the occupants. A rainwater harvesting system filters and reuses water from rainstorms. The house is also full of passive strategies, which cut down on energy consumption. Triple-glazed windows reduce heat loss while letting in sunlight, while the the exterior envelope has double the insulation of traditional houses. Natural lighting is integrated heavily into enCORE's design, with the most light focused on areas of highest activity.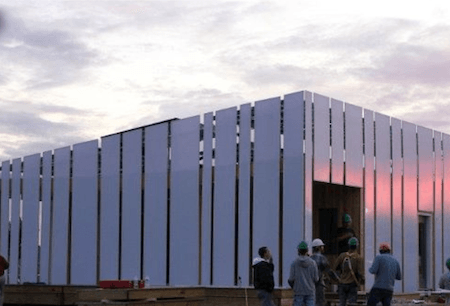 enCORE uses a flat-plate solar thermal system that works with a heat pump water heater for optimal efficiency, and has a solar thermal hot air system that provides comfortable temperatures while using a minimum of energy. The thin-film PV array is manufactured locally in Toledo, Ohio. Tying it all together, residents can monitor and control the house's electrical, plumbing and mechanical systems by way of a touch-screen display.

After the Decathlon, enCORE will return to the Ohio State University campus where is will be used as an educational facility for a year. At the end of that year, the house will be moved to a low-income neighborhood and become a fully-functional family home.