The home of the Washington Redskins has gone solar. FedExField in Landover, Maryland now boasts what is said to be the largest solar installation at any NFL stadium. On game days, the renewable power source can provide at capacity up to 20 percent of the stadium's power. It is also claimed that on non-game days, the solar system can provide up to 100 percent of the stadium's electrical needs.
NRG, one of the larger solar power developers in the United States, installed the system, which is made up of three different types of solar panels. Together, they generate nearly two megawatts (MW) of electricity. In addition to generating power for FedExField, the stadium's 8,000 solar panels will provide shaded parking in the 841-car lot.The design includes 10 electric vehicle charging stations from NRG's eVgosm charging network for use by fans.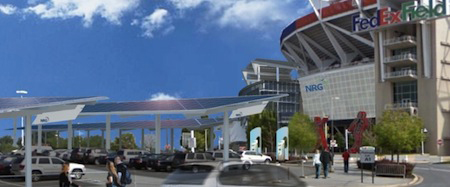 In addition, a NRG solar entry plaza at Gate A will generate power through a variety of green energy technologies, including translucent solar panels and a specially designed sculpture created using thin film solar technology. The sculpture – a 30-foot tall silhouette of a football player dubbed "solar man" –showcases the flexibility of this solar technology and also is an interesting way we think to make use of solar.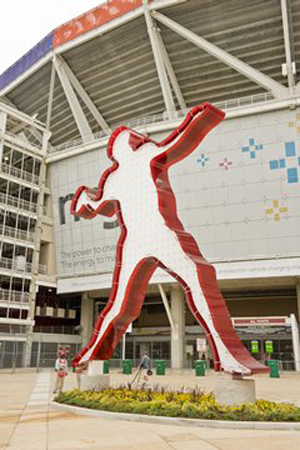 Daniel Snyder, the owner of the Redskins, said in a statement that he hopes the move will help educate and excite football fans about the potntial of solar energy. By using solar power, the Redskins expect to keep 1,780 metric tons of carbon out of the atmosphere each year– the equivalent of replacing 349 vehicles with gasoline engines with zero emission electric vehicles.