The St. Louis Housing Authority has recently completed a project to install photovoltaic (PV) systems on more than 90 buildings and affordable housing units, including its administrative building and four affordable housing complexes. The initiative is the largest solar energy project in Missouri, according to Real Goods Solar, which designed and installed the systems.
With an overall capacity of 617 kilowatts (kW), the systems are expected to generate approximately 777,000 kilowatt-hours (kWh) of energy per year, enough to reduce common-area electricity use by over 75 percent in the complexes, and the agency's overall use by 15 percent. The project was funded using federal Housing and Urban Development Green Communities stimulus funds and energy and redevelopment tax credits. In keeping with the requirements of the American Recovery and Reinvestment Act, all the components that went into the systems were made in America, including the 405 SunPower and 2,216 Sharp PV panels.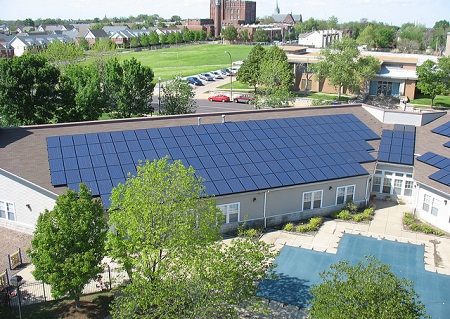 In addition to roof-mounted solar power systems, the sites also feature carport canopy solar arrays, which allow the panels to achieve peak performance due to their south-facing orientation, while also shading the cars underneath, of course. The project was developed by Sunwheel Energy Partners, an affiliate of affordable housing developer McCormack Baron Salazar.
"Solar power isn't just for large corporations or those with large incomes," explained Michael Steinbaum, vice president and chief operating officer at Sunwheel. "It provides an opportunity for just about anyone to reduce costs and have a positive impact on the environment."