The second-largest photovoltaic project in New Mexico is up and running. The Roadrunner Solar Generating Facility has started producing up to 20 megawatts (MW) of electricity.
During construction of the facility, more than 200 jobs were created over nine months. The power now generated from the project will be enough to power thousands of homes. First Solar provided the engineering, construction and procurement services for the project, which is owned by NRG Solar, a subsidiary of NRG Energy. This is NRG's third large-scale solar generation plant to go online, but it's first outside California..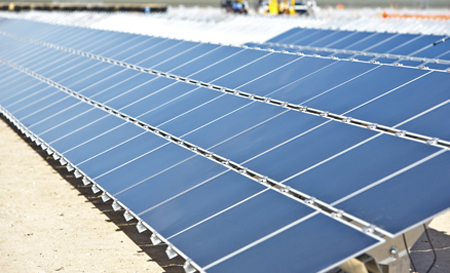 First Solar, which will also serve as the plant's maintenance and operations contractor, mounts its thin-film modules on single-axis trackers. The system rotates the PV solar panels to follow the sun throughout the day, increasing electricity production compared with a fixed-tilt installation.
The Roadrunner plant is on a 210-acre privately owned parcel of industrial-zoned land near Santa Teresa, N.M., about 10 miles from El Paso, Texas. Cost-competitive, renewable power generated by the Roadrunner facility will be sold to El Paso Electric under a 20-year power purchase agreement.