SunEdison, an international solar power provider, recently announced it has activated the first two of 15 planned solar rooftop systems in Ontario, Canada, that take advantage of the province's controversial feed-in tariff program.
According to SunEdison, first two systems will generate more than 3.2 million kilowatt-hours (kWh) of clean energy over a 20-year period. In total, the 15 projects represent over 2.3 megawatts (MW) of capacity, and have the potential to offset an estimated 9.8 million kilograms of CO2 sent into the atmosphere. That's the equivalent of removing 5,515 cars from the road for one year. The systems are planned for commercial structures owned by GE Capital Real Estate in cities and towns in the greater Toronto area, including Vaughan, Brampton, Burlington, Markham and Mississauga, with additional systems located in London.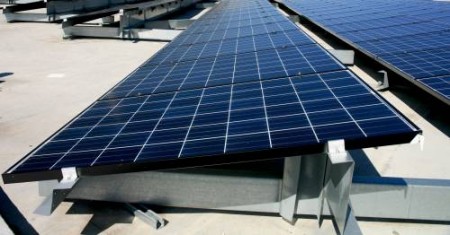 These projects are not without controversy. Both fall under Ontario's lightning-rod feed-in tariff (FIT) program. Under the program, which began in 2009, participants are paid a fixed-price for the electricity they generate over a 20-year contract period.
The FIT program has become an issue in the upcoming Ontario general election. The Progressive Conservative Party is against the FIT program saying that it costs taxpayers too much money. They have promised to cancel a pending deal with Samsung if victorious. If the New Democratic party wins the election, they say they will stop offering new FIT contracts with a capacity of more than 30 MW to private, for profit companies. Instead, they say that these large FIT projects would be operated by the province of Ontario. In addition to the domestic controversy, the Ontario FIT has been called protectionist by some countries.